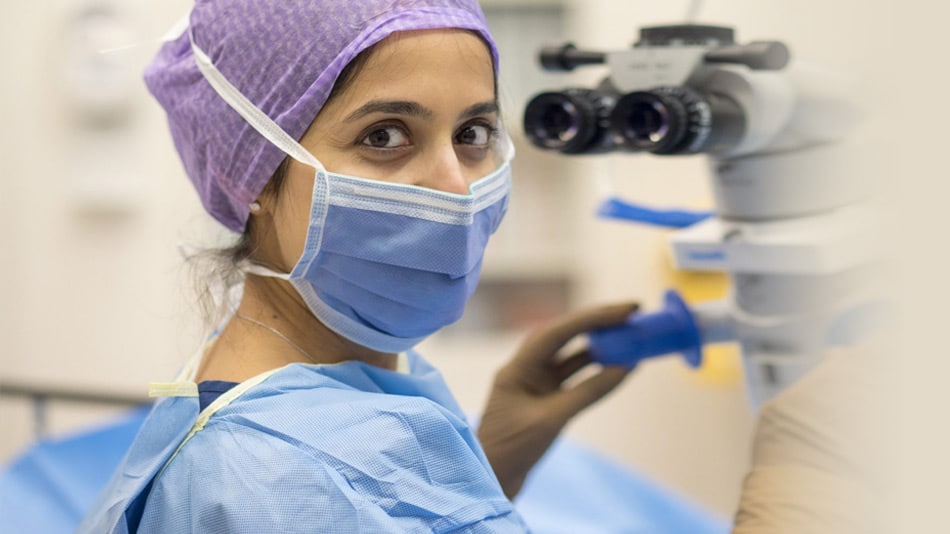 How to choose the best laser eye surgeon for you
If you're wondering how to choose the best laser eye surgeon for you, allow us to guide you through this critical decision-making process.
Verify Qualifications
First and foremost, ensure that your prospective surgeon possesses the appropriate qualifications. Look for a practitioner with fellowship training from the Royal Australian and New Zealand College of Ophthalmologists (RANZCO) and ideally a Fellow of the World College of Refractive Surgery."Refractive" relates to the bending of light, and in this context, it refers to surgeries that correct vision by reshaping the cornea, like LASIK and PRK. These qualifications are widely recognised as the benchmark for ophthalmic and refractive expertise in Australia. However, don't limit your inquiry to this alone—also consider their years of experience specifically in laser eye surgery.
Assess Technological Capabilities
The technology employed in the clinic is another crucial factor. Updated, state-of-the-art equipment correlates with enhanced accuracy, better outcomes, and reduced risks. Remember, your eyes are irreplaceable; the technology used to treat them should be nothing short of excellent.
Examine Reviews and Testimonials
Customer reviews and testimonials can provide invaluable insights. Real-life experiences shared by previous patients can offer you a comprehensive understanding of what to expect. Both positive and negative feedback can be enlightening.
Consider the Financial Aspect
While the cost of the procedure is undoubtedly important, it shouldn't be the sole determinant in your decision-making process. Lower-priced options might ultimately be costlier if they result in subpar outcomes or complications. Many esteemed clinics offer flexible payment options—don't hesitate to inquire.
Seek a Surgeon with a Sub-Specialty
It's not just about finding a qualified laser eye surgeon; it's about finding one with a specific focus that aligns with your needs. If you're considering laser vision correction (such as LASIK surgery), you might want to look for a surgeon who is also trained in corneal procedures. Why?
The cornea is the clear front surface of the eye on which laser eye surgery is performed. Its health and shape play a critical role in the quality of your vision. A corneal sub-specialty serves as a vital asset for a refractive surgeon by providing specialized training in a variety of advanced surgical techniques and skills specific to corneal procedures. Their expertise not only facilitates the identification and management of potential challenges, such as irregular astigmatism or corneal ectasia, but emphasizes the development of intricate microsurgical techniques, honing the surgeon's ability to delicately manipulate and handle the corneal tissue, thereby enhancing their proficiency in performing various refractive surgical procedures, such as SMILE, LASIK, PRK and ICLs.
A surgeon with a corneal sub-specialty is able to provide a comprehensive approach to vision correction, ensuring the delivery of high-quality, individualized care for patients seeking refractive procedures.
Note: Dr Aanchal Gupta at IVISION LASER holds this esteemed sub-specialty and is fellowship-trained and qualified in refractive surgery, making her exceptionally equipped to handle a wide range of vision correction needs.
With this additional consideration, you'll be better poised to make an informed choice. The right sub-specialty training ensures you're not just getting a one-size-fits-all approach but personalised care tailored to your unique visual requirements.
Trust Your Instincts
Lastly, always trust your intuition. If a consultation leaves you feeling uneasy, heed that instinct. The goal is to find a surgeon who not only meets all the professional criteria but also resonates with you on a personal level.
Selecting a laser eye surgeon is undoubtedly a significant decision. However, armed with the correct information and a reliable team, you'll find the experience considerably less daunting. Your journey towards impeccable vision could very well be smoother than you anticipate.
At IVISION LASER, we pride ourselves on meeting and exceeding these criteria. We invite you to book a free appointment and discuss how we can make your vision of a life without glasses or contacts a reality.
Find out if you are suitable for vision correction
Not everyone is eligible for vision correction surgery.
Find out if you could benefit from this life changing surgery by taking the quick self-suitability quiz below:
Our most popular procedures
LASIK

SmartSurfACE (a form of PRK)

Lens replacement

Lifestyle cataract surgery
What our patients say…
"The best thing about the clinic are the people, Dr Aanchal Gupta was so helpful and reassuring through the process."
"Seamless and professional. I am extremely pleased with the results."
"Excellent service from the reception staff to theatre staff & Dr G…fabulous great aftercare… thank you! I would highly recommend."
We have replaced the images of real patients who provided these testimonials to protect their privacy.